An online real estate company, Rent., enabled over 50 million home seekers to view the surrounding areas and facilities before choosing a rental property of their choice – all with Google Maps' latest feature, Aerial View.
Aerial View enables customers to make informed decisions using Google Maps' location-based services. Keep reading to learn how Google Maps' Aerial View is driving customer engagement and conversion
Defining Google Maps' Aerial View
Google Maps' Aerial View is an API-based service that enables the display of realistic 3-D aerial views (or videos) of any location or physical address. It uses the pre-rendered aerial view or video of any tourist landmark, building, or area located in the U.S.
Businesses can leverage the Aerial View API to:
Switch from the "traditional" map view to the "actual" satellite view of any building or road.
Provide a "bird's eye" view of their office location or facility by highlighting the surrounding areas.
Enable customers to reach your location by providing them with an engaging short video.
Enable potential home buyers or renters to view their property location before visiting the site.
Direct new tourists to major attractions within a city or area.
Direct retail shoppers or delivery professionals to the right destination.
Benefits of the Aerial View API
With the Aerial View API, Google Maps elevates online navigation to the next level with a realistic 3-D view of the target location.
Here are 4 benefits of the Aerial View API in Google Maps:
Detailed information
With the Aerial View API, Google Maps users can now obtain detailed information of a selected location "virtually." By knowing the location beforehand, they can make proper location-based decisions.
Enriched visual experience
Using the Google Maps Aerial View API, businesses can provide a rich visual 3-D experience to customers through their business applications. For instance, here's how Rent. enables potential home renters to explore the neighborhood.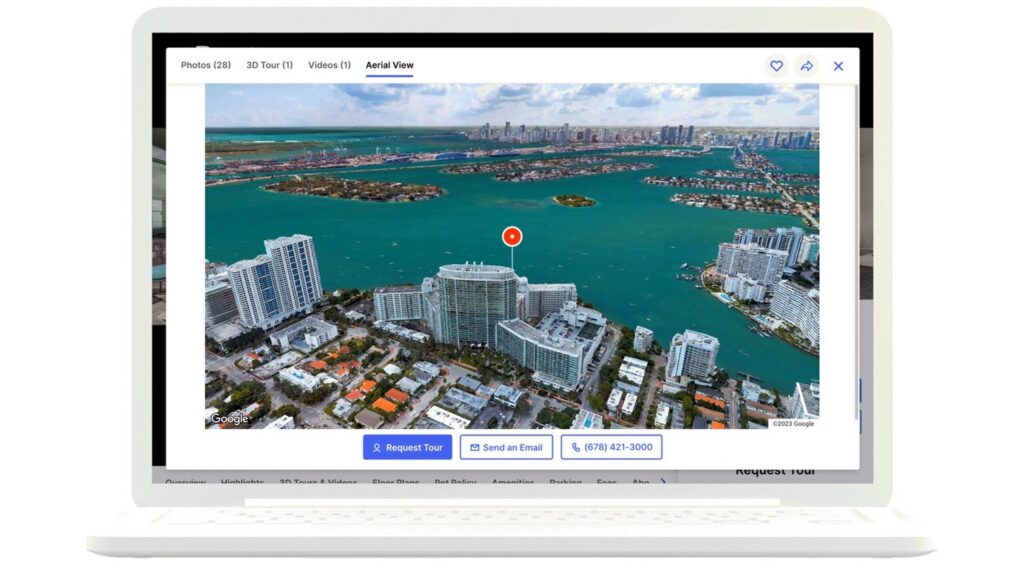 Reduced development time
Google Maps' Aerial View API is also beneficial to application developers. For instance, they can now request for a Google Maps high-resolution video of any U.S.-based location through this API. They can use this API to search for Google's pre-rendered dataset of aerial imagery. This enables them to save both development time and efforts. Alternatively, they can generate a new aerial imagery video – customized to their brand and design requirements.
Improved conversions
According to EyeWideDigital, the addition of videos to landing pages can improve the conversion rate by 80%. With the immersive view provided by Aerial View API, Google Maps users can "visualize" the location or route before going there. With 3-D cinematic videos, businesses can delight their potential customers with a 360-degree immersive experience. This can improve customer loyalty and conversion.
How Onix can help with Google Maps APIs
As a Google Cloud partner, Onix has developed expertise in customized Google Maps APIs. With our expertise, customers can leverage Google Maps APIs to resolve their business problems.
For instance, our Onix Assist solution can deliver business value through Google Maps:
Cloud Console Billing Analysis
Identity and Access Management
Securing user credentials for Google Maps
Optimizing Google Maps for improved performance and lower costs
Google Maps APIs can also transform delivery options by validating addresses and providing eco-friendly routes.

Ready to implement Google Maps APIs for your business? Schedule your free consultation with us today.
Reference links:
https://cloud.google.com/blog/products/maps-platform/create-immersive-cinematic-video-experiences-aerial-view-api
https://www.alphr.com/google-maps-aerial-view/
https://mapsplatform.google.com/maps-products/aerial-view/
https://mapsplatform.withgoogle.com/aerial-view-whitepaper/home.html
https://developers.google.com/maps/documentation/aerial-view/overview