The digital workplace has transformed the way organizations conduct their businesses.
The ever-evolving technology landscape has created a paradigm shift that calls for companies to adopt new ways of doing things to remain competitive. Among the technologies that have revolutionized the digital workplace is Software as a Service (SaaS). SaaS solutions have become increasingly popular in recent years due to their ability to enhance efficiency in the digital workplace. This article explores the benefits of SaaS solutions in optimizing the digital workplace.
Current Challenges
Digital workspaces face a few specific challenges that can hinder their productivity and efficiency. For instance:
Difficulty in managing multiple tools and applications for different business processes and teams can lead to inefficiencies, duplication of efforts, and information silos.
The need for remote work and collaboration has increased, requiring tools that are accessible from anywhere, secure, and enable real-time communication and collaboration.
Inability to scale IT resources quickly to support changing business needs and demands, resulting in delays, costs, and missed opportunities.
Security and privacy concerns associated with using multiple SaaS tools need to be carefully managed to avoid data breaches, unauthorized access, and compliance issues.
Lack of integration and interoperability among different SaaS tools can limit their effectiveness, lead to data inconsistencies, and increase the complexity of managing them.
Providing a consistent user experience across different SaaS tools is a challenge that can affect user adoption, productivity, and satisfaction.
Software as a Service (SaaS) – The Conglomeration of MANY
The power of the cloud is that it allows organizations to link multiple tools to enhance efficiency. SaaS solutions are becoming the future of workplace efficiency. Organizations are increasingly adopting cloud-based solutions to optimize their digital workplaces. By adopting SaaS solutions, organizations can leverage new technologies and tools without the need for a significant capital investment as organizations only need to subscribe to the services they need. This eliminates the need for expensive hardware, software, and infrastructure investments.
Why Security and Privacy are Key
One of the biggest concerns organizations have when adopting SaaS solutions is security and privacy. Organizations need to ensure that the sensitive data they store in the cloud is safe from unauthorized access, data breaches, and compliance issues. With interconnected SaaS solutions, the risk of data breaches and unauthorized access increases, as data is shared across different applications.
To mitigate these risks, organizations need to adopt robust security measures to protect their sensitive data. SaaS providers offer a range of security features, such as encryption, access controls, and firewalls, to protect data from unauthorized access. Organizations need to carefully evaluate these features before selecting a SaaS provider and ensure that the provider complies with relevant regulations and standards, such as GDPR and SOC 2.
Additionally, organizations should implement proper data management and governance policies to ensure that data is properly classified, secured, and audited. They should also establish proper access controls and permissions to limit access to sensitive data to authorized personnel only.
Benefits of SaaS Interconnectivity in a Digital Workplace
The interconnectedness that SaaS apps offer is not a new concept, but it has become more accessible and less expensive in recent years. With the rise of cloud computing, businesses of all sizes can now take advantage of the benefits of SaaS solutions without the need for costly infrastructure and maintenance.
Here are some of the benefits of interconnected SaaS solutions in boosting the efficiency of a digital workplace:
Enriching digital experience through workplace collaboration: By connecting multiple SaaS tools and using triggers to centralize data access for employees, teams can save countless hours of manual tasks and streamline collaboration in their digital workplaces. For example, users can apply Google Docs, Sheets, Slides into collaborative work management apps like Trello.
Streamlining business operations: Organizations can link their SaaS-based Customer Relationship Management (CRM) solutions such as Salesforce with their SaaS-based Enterprise Resource Planning (ERP) solutions like NetSuite. This allows organizations to automate processes such as inventory management, order processing, and invoicing.
Automating workflows to eliminate manual processes and provide ROI savings: Organizations can establish integrations between SaaS solutions to automate manual data entry inside multiple systems sending notifications, and other routine tasks, freeing up employees' time to focus on more important tasks.
Data democratization through SaaS interconnectivity: Data can be shared across SaaS offerings to derive insights like SaaS based CRM solutions and business intelligence tools. This allows organizations to leverage the data from their CRM solutions to generate insights and make informed business decisions.
These are just a few examples of how SaaS interconnectivity can boost the efficiency of a digital workplace. By connecting various SaaS products, organizations can streamline their processes, automate manual tasks, and provide employees with access to the data they need to make informed decisions. With the rise of cloud computing, businesses of all sizes can now take advantage of the benefits of SaaS solutions without the need for costly infrastructure and maintenance.
Google Workspace and Interconnectivity with Digital SaaS Tools
Google Workspace, is a powerful set of cloud-based productivity and collaboration tools that enable teams to work together seamlessly, no matter where they are located. It enables organizations to manage their applications, data, and services from a single location, integrating with various SaaS applications to create a unified user experience.
The suite includes applications such as Gmail, Drive, Docs, Sheets, Slides, and Meet, among others. With the growing popularity of digital workplaces, Google Workspace has become an essential tool for businesses to stay connected, organized, and productive.
In addition to Google Workspace, several other digital platforms, such as Happeo, LumApps, AODocs, and Cloud M also offer various features and functionalities that can help businesses improve their productivity and enhance customer experiences. These platforms work together with Google Workspace to offer customers all the tools they need to make their workspace projects succeed.
Happeo, for instance, is a social intranet platform that enables teams to collaborate, communicate, and share information in one centralized location. The platform integrates with Google Workspace, allowing users to access their Google Drive, Docs, Sheets, and Slides from within Happeo. It is your Digital Headquarters and a centralized hub for collaborating and surfacing all information across the workplace.
LumApps, on the other hand, is a digital workplace platform that connects employees, departments, and applications in one place, offering a unified employee experience. Like Happeo, LumApps platform intelligently integrates with Google Workspace, allowing users to access their Google Drive files and other Google applications while deepening business relationships and growing institutional knowledge.
AODocs is a document management platform that helps businesses automate their document processes, reduce manual work, and improve compliance. AODocs integrates with Google Workspace, allowing users to manage their documents and workflows from within Google Drive.
Finally, CloudM is a cloud migration and management platform that helps businesses migrate their data to the cloud and manage their cloud resources efficiently. CloudM also integrates with Google Workspace, enabling businesses to manage their Google Drive data and other cloud resources from one centralized location. In that sense, Google Workspace becomes a "connective tissue for all the best tools"
By integrating these platforms with Google Workspace, businesses can streamline their workflows, enhance collaboration, and improve customer experiences.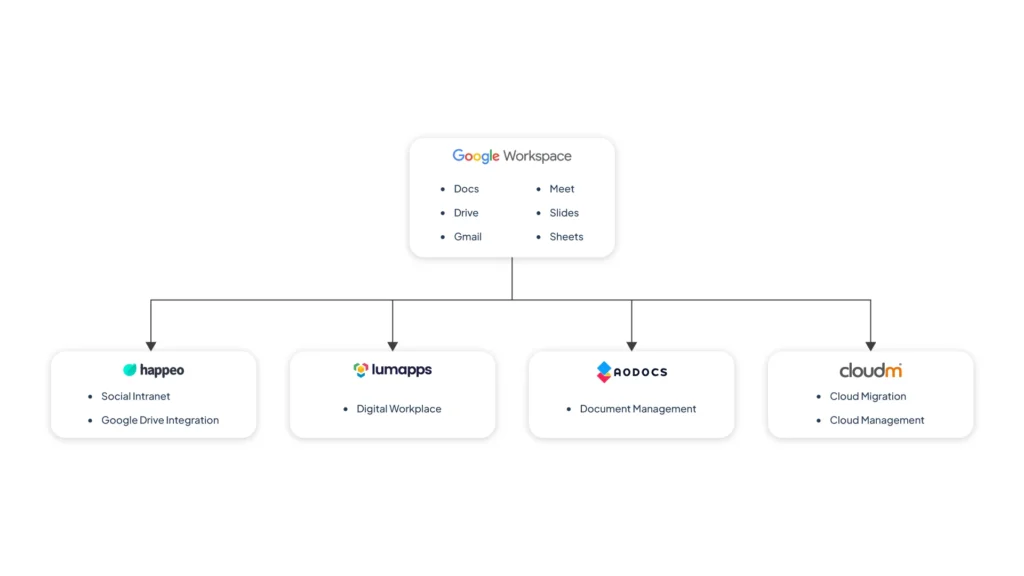 Enriching Digital Experience through Digital Platforms
Onix helps optimize the digital workplace experience by maximizing customers' workplace productivity through the use of collaboration tools like Google Workspace.
Additionally, as a trusted implementation partner for leading digital community platforms like LumApps,Happeo, AODocs and Cloud M, Onix can provide a truly personalized digital experience. These partnerships offer customers a seamless solution that connects people, information, and applications. For example, Onix and Happeo helped technology development leaders connect a global team through a centralized intranet – check out our Trimble case study for the full story.
Conclusion:
Interconnected or integrated SaaS solutions are the future of workplace efficiency. By linking different tools and applications, organizations can optimize their digital workplaces, streamline workflows, and create a more productive and collaborative work environment. However, organizations need to carefully evaluate the risks and benefits of adopting SaaS solutions and implement proper security measures and data governance policies to protect their sensitive data.
By choosing the right SaaS solutions and implementing proper security and governance policies, organizations can achieve significant ROI savings, increase productivity, and drive innovation. As the digital workplace continues to evolve, SaaS solutions will play an increasingly important role in enhancing workplace efficiency and competitiveness.
If you are looking to enhance your Digital Workplace efficiency, please contact us to get started!
Learn how Google Workspace is empowering the digital workplace using interconnected SaaS apps.