Personas Behind the Brand
Today's featured leader: Scott Fleming
Welcome back to our leadership blog series, 'Personas behind the brand', featuring perspectives and insights from influential and innovative leaders across our organization!
Today, we shine the spotlight on Scott Fleming, Senior Vice President of Services, Public Sector, at Onix.
Scott is a Public Sector professional services and technical engineering lead with a long track record of developing high-performing teams and business expansion. After over ten years as Director of Cloud Customer Experience at Google Cloud, overseeing Public Sector Customer Experience and Professional Services, Scott joined Onix in February 2023. Prior to Google, he held significant positions at Northrup Gruman, catering to diverse aerospace and defense clientele.
Q. What motivated you to make the move to Onix?
Being at Google for 10 years I saw, first hand, the value and importance of great partners. Onix's vision to be the most trusted partner really stood out to me as something that I wanted to be a part of. Add to that the quality of people at Onix and it just made sense.
Q. What do you see as the biggest opportunity in your new role as SVP of Services, Public Sector?
The opportunity to support public servants across government and education that impact the lives of hundreds of millions of individuals is one of the most rewarding feelings. Whether it is improving access to benefits, decreasing traffic fatalities by leveraging data to make informed decisions, applying AI in responsible ways to drive improved outcomes, or enabling the next generation of students to do previously impossible research.
Q. How have your previous experiences at Google and Northrop Grumman helped you prepare for your current role at Onix?
I owe who I am today to the people I have met throughout my career. At Northrop I learned what was possible with an amazingly talented team and true dedication to the mission of our customers. Vision, persistence, patience, and talent combined make a very strong force. I joined Google because I wanted to make a difference in how Government adopts and leverages cutting-edge technology coming out of the consumer and enterprise space, and nothing reinforced the impact of that more than supporting our customers through the Covid-19 pandemic.
Q. What do you believe are the most significant trends or emerging technologies in the Public Sector industry, and how do you stay up-to-date on these developments?
We've all learned over the past few years the value of resiliency, or hopefully, antifragility – not just bouncing back to where we were, but coming back stronger, more informed, and better. As Jim Collins and Morten T. Hansen call out in Great by Choice, you can't predict exactly what or when something will happen, but you can with high confidence say "something will happen". Cloud enables Public Sector entities to be better prepared for the unknown. Whether it is a natural disaster that drives an immediate demand for a specific government service, the naturally "spiky" nature of many government workloads, or the ever evolving need to provide the most comprehensive constituent experiences, Cloud is an enabler. Additionally, higher level managed cloud services allow Government customers to focus on their mission vs. having to focus on the technology. The continued growth and adoption of Cloud in Public Sector and the multiplying effect that it has is generating the greatest mission impact today.
As we look forward, there is a lot of interest, excitement, and potential for artificial intelligence and machine learning to have an impact as well. Often when we think of AI we jump to grandiose examples – self driving cars, etc., and I'm confident that over time, we'll see some of these make their way into our everyday lives. But what we often don't think about is the value AI can provide today for hundreds of millions of people. Things like high quality, near real time, translation between over 100 languages that enable previously impossible levels of government support. Just imagine, even a few years ago if someone didn't speak a common language and they called 911, they might have needed to be placed on hold while a translator could be found and added to the call. Today, this is not something that anyone should have to experience.
It is also critical to remember, especially in Public Sector, that AI needs to be built and applied responsibly – something that has become known as "Responsible AI". This cannot become just a checkbox as part of a procurement process, but remain as a central ethos.
There are a lot of great resources available to stay up to date on these topics – probably too many for any one person to consume. My number one approach is to be alongside and supporting customers anywhere I can. Nothing is a 100% substitute for actually getting out, doing the hard work, and implementing something. That said, the National Artificial Intelligence Initiative (ai.gov) is a great resource to follow specifically relative to AI in Public Sector.
Q. How do you approach balancing the need for innovation and modernization with the importance of ensuring data security and compliance in Public Sector?
First, I think it is important to look at data security and compliance which generally tries to put a measurable, verifiable set of standards in place in order to drive security, as an enabler and not as a drag on innovation and modernization. This is also an area where Cloud has driven capabilities forward that enable both innovation and security at a level not previously achievable. For example, encryption and key management in Google's Big Query. Previously, setting up a key management service for a small workload would have been considered a huge undertaking. Today, through basic capabilities, you can uniquely encrypt data to a fine level of detail, enforce auditable access logs, and leverage techniques like cryptosharding at the individual field level in order to minimize data retention when it is no longer needed. When we start thinking about security, and particularly the unique capabilities that Cloud provides, as an enabler we can innovate and modernize constituent services while also protecting their security and privacy.
Q. How do you ensure that your team is delivering the highest-quality service to customers and how do you measure success?
The first step is building and supporting a high-performance team. If I had to pick one word that I want everyone on the team to exemplify, it would be respect. The challenges of government are as broad as the constituents are diverse, and this means we need a team that can share their ideas, be open minded, and challenge each other – and me! Upon that foundation, we strive for continual learning and a postmortem culture that enables us to learn both from our successes as well as our failures. We also need to always understand how our customers define and measure value. Particularly in Public Sector, this usually isn't a clear financial metric. For instance, many Departments of Transportation align with "Vision Zero", aiming to achieve zero road fatalities.
While by no means exhaustive, some of the ways I measure this are:
CSAT – whether you use CSAT, NPS, or some other measurement, at the end of the day it is always best to hear how your customers (and partners) feel.
Regrettable attrition – Every individual on the team should always be developing themselves, growing, and evolving. Sometimes this means that moving to a new role, team, or organization is the right move for them – moving "to" something. When, however, individuals are moving "from" the team it is very different and, I believe, an indicator that we can improve.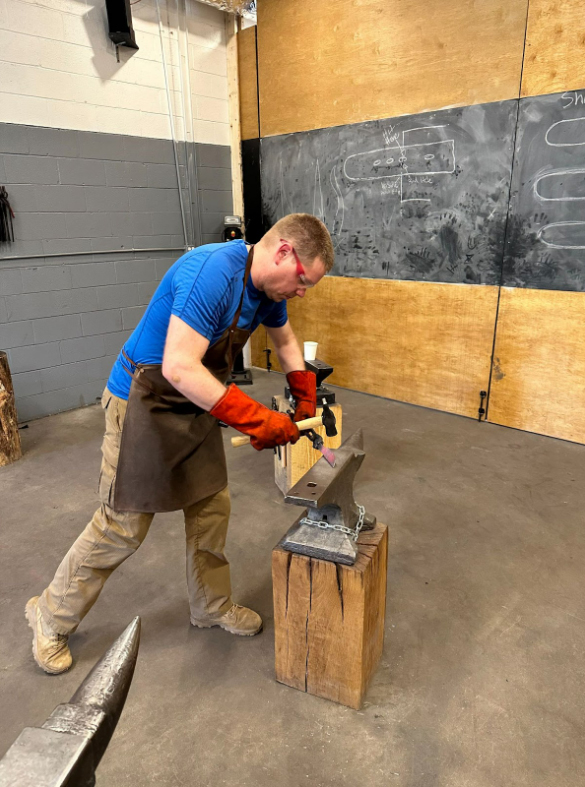 Q. What do you see as the biggest challenge for advancing cybersecurity in the cloud for the Public Sector today?
Consistency and clarity – if you look at the compliance landscape today, just in US public sector, you'll see FedRAMP (Low, Moderate, High), CJIS, IRS 1075, HIPAA, State Ramp, HITRUST, PCI, CMMC, DoD Impact Levels, NIST 800-171, and that's just to name a few. Even though most of these frameworks can be traced to each other, they are not reciprocal, and the complexity adds cost, time, and confusion.
Q. Now that we've heard your thoughts on business, tell us more about yourself personally. If you could have any superpower, what would it be?
Eidetic memory
Q. What's the most interesting or unique job you've ever had outside of the tech industry?
I worked as a student catering chef in college. I gained a whole new level of respect for everyone that works in the restaurant and service industry.
Q. If you could have dinner with any historical figure, who would it be and why?
There are so many individuals I would love to learn from. If I had to pick just one right now, it would be Richard Feynman. As a child I remember reading Surely You're Joking, Mr. Feynman! and being inspired to always strive to understand both the physical world and people more deeply. Going to Caltech years later, the Feynman lectures were practically required reading. I would love to get his view on the current state of the world, and in particular, his views on the responsible use of AI given his experience with the Manhattan Project.
It's never too late to pick up a new hobby…
We hope you enjoyed the latest from Onix in our ongoing leadership series! Be on the lookout for the next installment, where we delve into the most recent leadership trends, strategies, and best practices. Stay tuned for engaging and stimulating content that will inspire and entertain you!