How much of an impact can migrating to Google Workspace make? More than you know. While it might seem like choosing among productivity suites is an apples-to-apples decision, deploying the right one for your organization takes thought and planning. Just ask the team at Gordon Food Service.
For more than 120 years, Gordon Food Service has made its mark in the food service industry as the largest family-operated broadline food distribution company in North America. The Wyoming, Michigan-based organization operates on the belief that food has the power to create special moments and bring people together.
Internally, however, the company — which went live with Google Apps in 2012 — struggled with bringing its own people together. It juggled multiple, costly versions of on-premise productivity software between its Wyoming HQ, 24 distribution locations and multiple stores in 11 states. This totaled more than 17,000 users company-wide.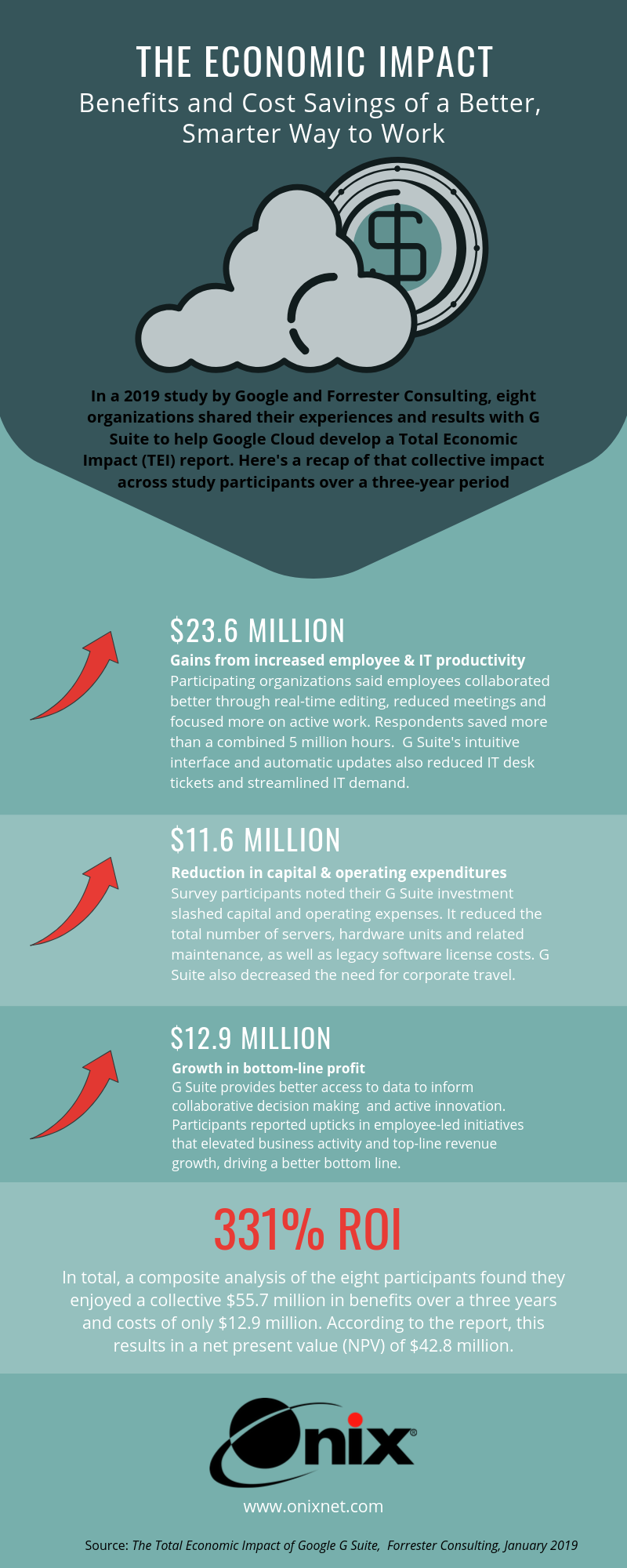 Some versions of the existing software had reached an end of life. Others were approaching it. No one was on the proverbial "same page" with documents, communications and more. The lack of consistency between file versions emailed among employees hampered productivity and caused confusion and errors.
"Information was being overlooked," recalls Jeff Johnson, Collaboration Team Lead at Gordon Food Service. "And things were confusing. My favorite analogy is this: On a Monday, I received an agenda for a Wednesday morning meeting. By Tuesday, I had seven different versions emailed to me. When I got to the meeting on Wednesday, the agenda on the conference screen was yet a different version."
What's more, the cost for the upcoming legacy software license renewal would reach $2.5 million. These scenarios made company officials realize they needed improved collaboration solutions. Their employees needed to work better together, more productively, organization-wide.
Exploring Measurable Digital Transformation
Recognizing change was needed was the first crucial step in this transformative journey.
Executives started identifying transformation roadblocks. They also sought to understand how improved collaboration and cloud computing services would elevate the organization to the next level of efficiency and success.
Confirming their suspicions, the team determined the on-premise software solution was the main culprit. It didn't give them the ROI or the day-to-day productivity needed to keep work flowing throughout the organization. Plus, more than 3,600 users company-wide were not even using the software.
After assessing its options, the company realized Google Cloud's Google Workspace would deliver the tools it needed. It would provide the power to nurture and enhance its collaborative efforts. It also would slash the legacy software license expenses.
Their goal? To ultimately have 75% of employees across all locations exclusively using Google Docs, Sheets, and Slides as their cloud collaboration tools when they deployed Google Workspace.
Cost Savings, Better Workflows in the Cloud
The company's leadership was ready to encourage successful end-user adoption across its organization. Onix worked with Gordon Food Service to remove the existing on-premise software licenses and replace them with browser-based Google Workspace collaboration tools.
The company opted to tackle legacy software removal in waves in order to migrate workers to a full Google Workspace experience — or to at least a single Google Workspace app in the cloud. This aligns with information shared in a May 2018 report from Google and Forrester Consulting, "Rethink Technology in the Age of the Cloud Worker."
Forrester's report indicates that 61% of enterprises have significantly evolved or fully transformed their approach to technology so they can more readily support helping employees to work more productively. The same report shows that out of 486 surveyed global information workers that use cloud apps weekly at work, 94% feel browser-based apps are equally as easy — or easier to use as desktop apps.
At Gordon Food Service, workers quickly discovered this and embraced this new way of working. In January 2017, 82% of the company's users were using the on-premise, legacy productivity solution. By January 2019, that number had plummeted to 14%, with 64% of users moving to the full Google Workspace experience — and 22% using a single legacy app for exception use cases.
That meant 86% of employees had, at least in part, adopted Google Workspace. It also meant that thanks to this migration, the company had realized some hearty cost savings..
"Google Workspace and Onix saved us money from the start," Johnson says. "The savings were pretty substantial, especially in cost avoidance. We were faced with thousands of copies of end-of-life software."
Ultimately, the company avoided a potentially $2.5 million upgrade to a new version of the legacy solution through a turnkey Google Workspace migration. The Google Workspace customer success story of economic impact is real.
By consolidating to a single, cloud-based platform, the company's tech leaders were also able to create processes that translated across the organization. They guided the workforce into a cloud journey, turbocharged its organization-wide collaboration and nurtured and excited its workers.
"We wanted people to move to this platform and realize how many benefits better collaboration can offer," Johnson says, adding that Google Workspace has provided more efficient and better ways to work — and a single source of truth for files.
Instead of multiple versions of a document that gets emailed around until no one remembers which version it is, he says they now collaborate within one document in real time.
"Google Workspace is life-changing," he says. "It's been a real eye-opener, and we couldn't have done it without Onix. It's a special partnership."