For a Google Workspace-powered organization it's important to stay informed of the continuous improvements made to the suite of tools. Read on for some of the latest updates happening in the Google Workspace domain that will help drive your business forward.
Message view counts in Google Spaces
On June 29 this year, Google introduced the feature of "read receipts" for direct messages posted in Google Chat. This enabled online chat users to check if other group members have (or have not) read their latest messages on Google Chat.
Google has added a similar feature in Google Spaces. Users can now view the count of message views posted on Google Spaces. For a more detailed view, users can now:
Hover over the particular message.
Select the 3-dot menu option.
Click "See message views."
Here's a demo of this new feature: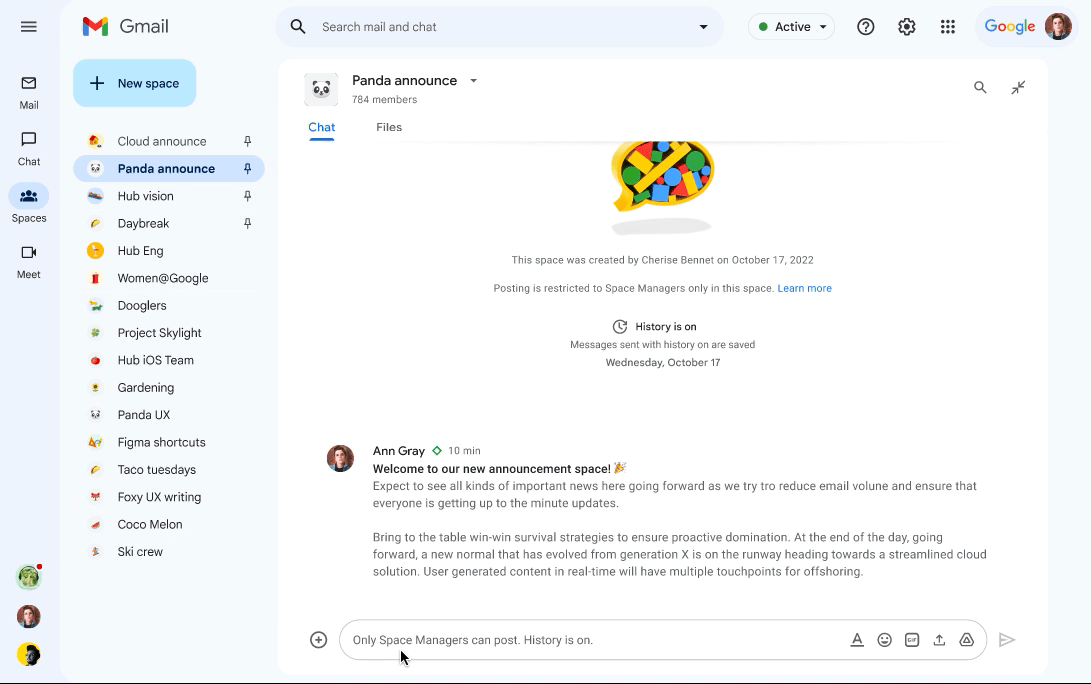 The message count feature is available for all messages sent on (or after) August 1st, 2023. This feature is available for all Google Workspace users with personal Google accounts.
For more information on this update, check out this official Google Workspace page.
Viewing & comparing scripts using Apps Script project history
The Google Workspace team continues to make improvements to its Apps Script project tool. In their latest update, the Google team has added the "Project History" interface for Apps Script developers to view their previously deployed script versions. They can also compare the latest version with the previous script versions.
In the "Project History" view, developers can see the highlighted changes to quickly compare the differences between their selected version and the latest script version. To open this view, they need to open any Apps Script project, and then click "Project History."
Here are a few sample screenshots to highlight this new feature.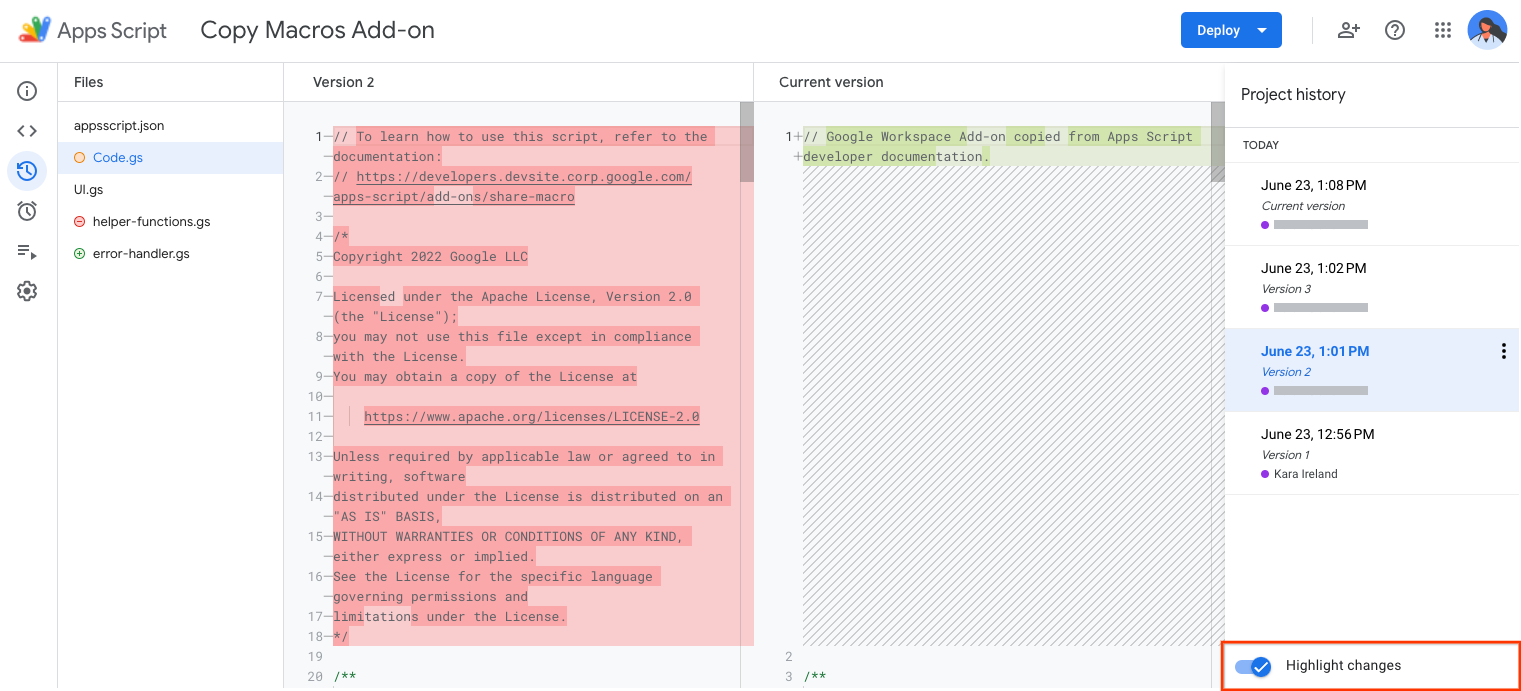 To access project history, users must have "edit" permission for their Apps Scripts project.
Safeguarding sensitive actions in Gmail
In August 2022, Google introduced strong safeguards for sensitive actions in Google Workspace. This year, they have extended the safeguarding to sensitive actions performed by Gmail users. This includes sensitive actions like:
Filtering actions like creating, modifying, and importing filters.
Forwarding actions like adding a new forwarded email address from Forwarding and POP/IMAP settings.
Enabling the IMAP access status from Gmail settings.
What are the new safeguarding measures? Whenever any of these actions are performed, users are prompted with the "Verify it's you" message. Users must then go through a 2-step verification process to enter the verification code and confirm the validity of the action.
Viewing speaker's notes when co-presenting Google Slides in Google Meet
In April 2023, Google added the ability for multiple presenters to make a Google Slide presentation in Google Meet. With this latest update, co-presenters can now also view the speaker's notes. Effectively, this means that the main presenters and co-presenters can read from the same speaker's notes during the Google presentation.
Here's a demo of this new feature: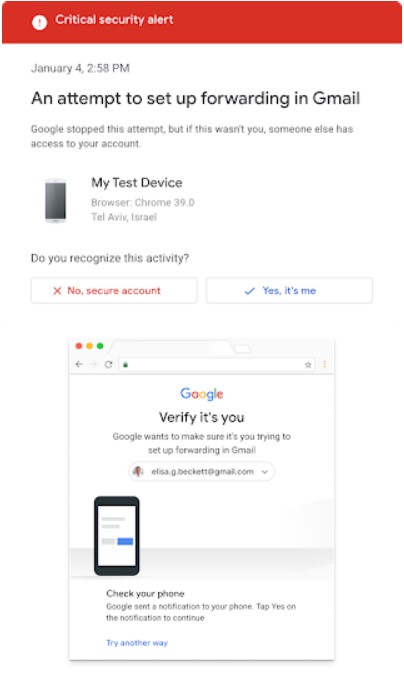 This feature is currently not supported for SAML users.
Here is a detailed demo of how this feature works: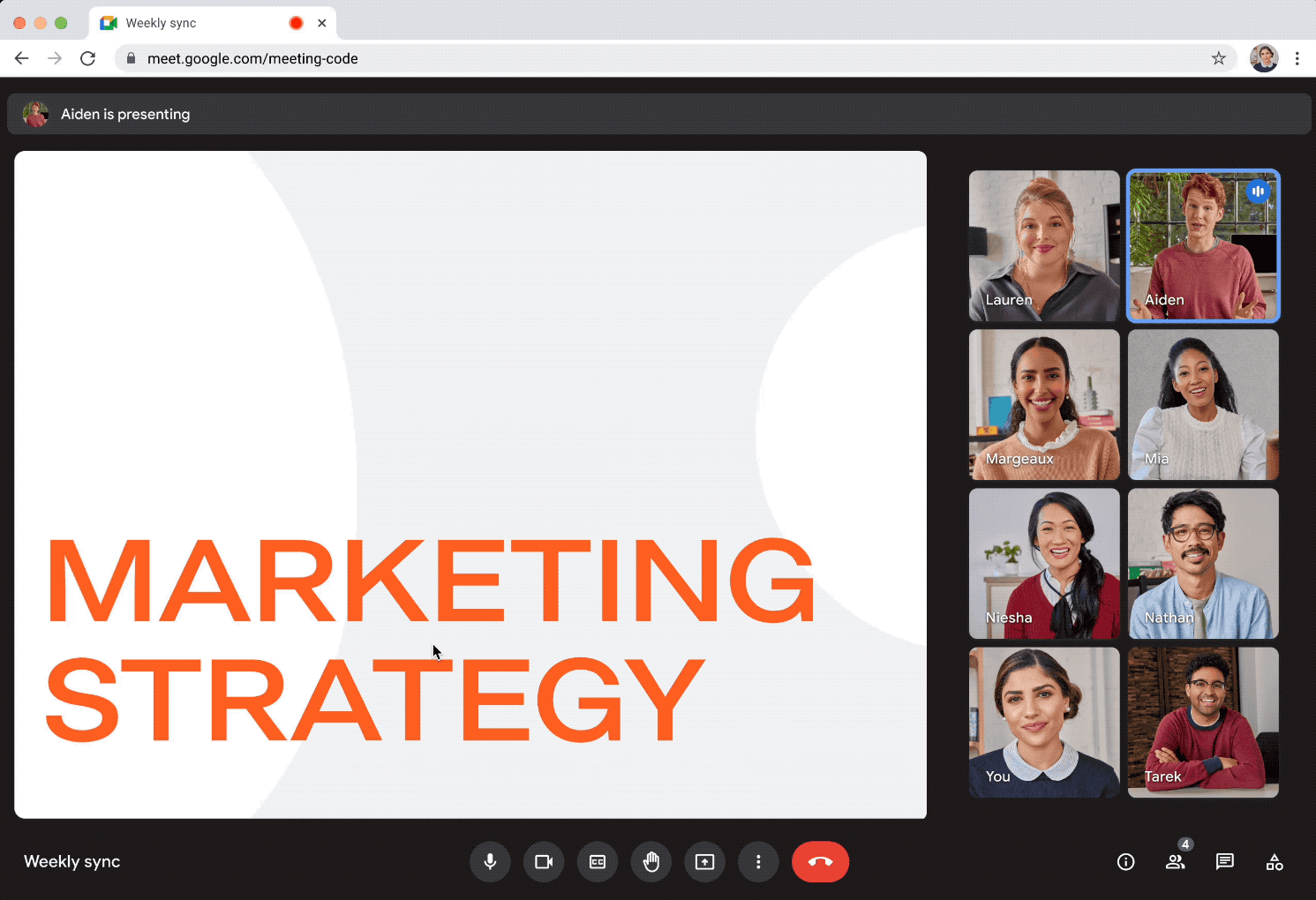 With this added feature, presenters no longer have to spend time switching between Google Meet and Google Slides. This feature is available on all computers with Google Chrome and Microsoft Edge browsers.
For more information on this update, check out this official Google Workspace page.
In summary
Collaborative tools like Google Workspace will continue to power the modern digital workplace. Going forward, organizations can leverage this platform to enhance productivity and customer satisfaction.
With years of expertise in Google Cloud solutions, Onix is the right technology partner who can help you move towards a connected and productive workspace. Our trusted Onix team will support you at every step of this journey.
Not a Google Workspace user – or have questions about your Workspace instance? Connect with one of our experts today!
Reference links:
https://us5.campaign-archive.com/?e=fba97370e8&u=dfee747f842ff45e675b4d1d9&id=c0ddb92f4d