Middle market businesses continue to fuel the US economy, providing over 60% of all private-sector jobs. With revenues ranging from $10 million to $1 billion, these companies make up more than 200,000 businesses across diverse industry segments. In 2022, approximately 70% of middle market companies experienced better business performance compared to the previous year. As remote working continues to reshape the business landscape, cloud technology plays an increasingly crucial role in the digital transformation of middle market businesses.
The National Center for Middle Market (NCMM) and Google Cloud have partnered to conduct a comprehensive survey on the current state of cloud technology adoption in the middle market segment. We used the survey as reference for our eBook, "Accelerating Cloud Transformation for the Middle Market," which unveils key insights and exclusive data from this groundbreaking research study. Let's delve into some compelling insights:
Cloud technology as a top strategic priority: The survey reveals that cloud users view cloud technology as a more critical component of their business strategy than other approaches, underscoring its growing importance in driving success.
Embracing comprehensive cloud transformation: Middle market businesses are not just looking to migrate their processes and applications to the cloud. They're actively seeking to adopt holistic cloud transformation strategies that maximize efficiency, innovation, and agility.
Data security takes center stage: When selecting a cloud service provider, companies prioritize data security as one of their most critical factors, demonstrating the increasing need for robust protection in a digital-first world.
Fast-growing businesses leverage cloud technology: Top-performing middle market businesses have been found to integrate cloud solutions across various business functions, illustrating the connection between cloud adoption and accelerated growth.
Exceeding cloud investment expectations: Over three-fourths of cloud users describe their cloud experience as "better than expected," showcasing the technology's ability to deliver tangible benefits and drive business outcomes.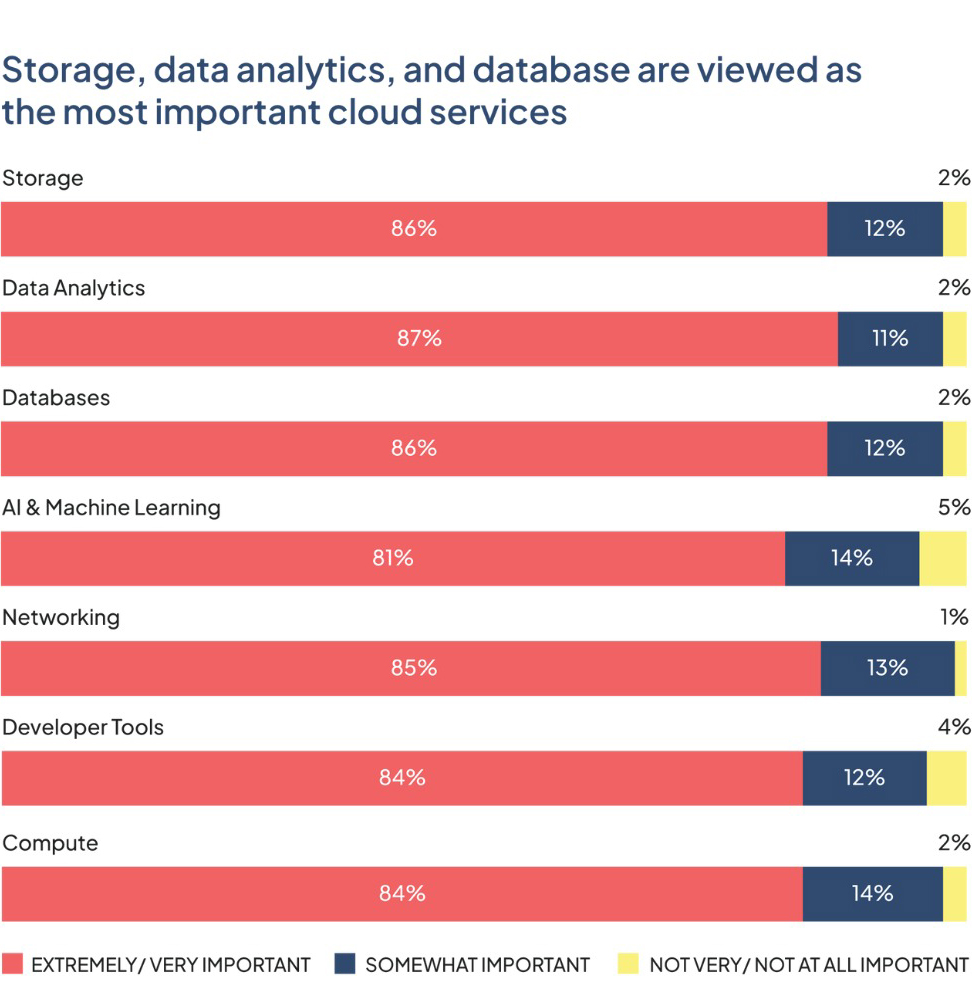 In addition, the "Accelerating Cloud Transformation for the Middle Market" eBook shares three essential considerations for middle market businesses looking to maximize the benefits of cloud technology:
Define your transformational approach: Develop a clear and strategic plan to guide your cloud adoption journey, including assessing current infrastructure, setting priorities, and aligning objectives with business goals.
Choose a reliable cloud service provider: Select a provider that offers robust data security, scalability, and a comprehensive suite of services tailored to your specific needs.
Prioritize upskilling and training: Invest in your workforce by providing ongoing education and training opportunities, ensuring they possess the skills needed to navigate the evolving digital landscape effectively.
The "Accelerating Cloud Transformation for the Middle Market" eBook delivers invaluable insights into the state of cloud technology within the middle market. It highlights the critical role of cloud technology, data security, and upskilling in ensuring middle market businesses remain competitive and achieve growth. Don't miss out on these essential insights for leveraging cloud technology in your middle market business.