The year 2023 has been a productive year for Google Cloud. The company held its largest in-person event in August — "Google Cloud Next '23" — in San Francisco. The key focus of this year's event was the spotlight on the growing use of AI technology. Sundar Pichai, the CEO of Google spoke of the work Google is doing to make AI technology more useful and responsible. Sundar talks about the industry shift to AI as the "most profound shift we'll see in our lifetimes. It will touch every sector, every industry, every business function. And significantly change the way we live and work." In this recap blog, we shall discuss some of the key AI-related takeaways from the Google Cloud Next 2023 event.
Duet AI
Since its introduction, Duet AI in Google Workspace is being used by 3 billion users and 10 million paid customers. Considering its popularity, Google even added Duet AI to Google Chat and Google Meet. With Duet AI, Google has effectively added AI as a real-time collaborator.
What's the latest buzz on Duet AI? It is now available on both Google Workspace and Google Cloud.
Duet AI on Google Workspace is available with features like:
Writing assistant
Spreadsheet expert
Project management
Meeting note-taker
Visual designer
Similarly, Duet AI on Google Cloud enables users to collaborate like a professional coder, software reliability engineer, database professional, data analyst, and cybersecurity expert. This tool is currently available in preview mode – and is going to be generally available later this year. Once available, users can use this tool with other Google Cloud services including Google BigQuery, Looker, Database migration services, and Mandiant Threat Intelligence.
Vertex AI
Designed to build AI-powered models and applications, Google Cloud announced major advancements to its Vertex AI technology. Vertex AI has been promoted as the one-stop solution for building Generative AI applications, MLOps, and machine learning models. According to Google, Generative AI projects have grown by over 150 times between April and July of 2023.
Here are some of the latest updates to Vertex AI:
Foundation models : Google Cloud customers have access to over 100 foundation models through its Model Garden. These foundation models are optimized for various formats including text, chat, images, and software code. Google has now announced the availability of new Generative AI foundation models. This includes Meta's Llama 2 model and the pre-announcement of Anthropic's Claude 2 model.
Updates to the PaLM 2, Codey, and Imagen models: Among existing foundation models, Google has announced an upgrade to the PaLM 2 to 32K context windows. This enables organizations to easily process long-form documents such as scientific research papers and books. For both PaLM 2 and Codey, Google is enabling adapter tuning capability, which improves the LLM performance. They are also introducing Style Tuning as a new tuning method for the Imagen model.
Colab Enterprise: This managed service integrates the user-friendliness of Google's Colab notebooks with advanced security and compliance capabilities. For instance, data scientists can use Colab Enterprises to accelerate AI-driven workflows – along with complete access to the capabilities of Vertex AI.
Vertex AI extensions and tools: Google developers can use Vertex AI extensions and tools to build Generative AI applications and customize foundation models. Vertex AI extensions can now deliver real-time information – and perform actions for the user. This opens up the opportunity for Generative AI applications to access proprietary information and perform tasks on third-party applications like email or CRM.
AI-optimized infrastructure
Over the last 25 years, Google has invested in data centers and networks around the globe. To date, it has built a global network of 38 cloud regions. Going forward, an AI-optimized infrastructure is the preferred choice for creating Generative AI models and applications.
Google has announced the following advancements in its existing infrastructure:
Cloud TPU v5e
With this cost-efficient and scalable AI accelerator, Google customers can now use a single Cloud TPU platform for large-scale AI model training and inference. With scalability of up to tens of thousands of chips, Cloud TPU v5e provides twice the training performance (for each dollar) compared to Cloud TPU v4. Besides, this version delivers a 2.5-times improvement in inference performance (for every dollar).
A3 VMs with NVIDIA H100 GPU
Powered by NVIDIA H100 GPU, Google's A3 VMs will shortly be available for use. It provides high-performance networking for the computing demands of modern Generative AI models and other LLMs. A3 VMs deliver 3x better performance in training than the previous A2 series.
GKE Enterprise
With its multi-cluster horizontal scaling capability, GKE Enterprise is built for mission-critical and demanding AI and machine learning workloads. Short for Google Kubernetes Engine, organizations are utilizing GKE for productivity improvements of 45% – while reducing software deployment duration by over 70%.
Additional GKE benefits like automatic scaling and workload orchestration are now available with Cloud TPU v5e.
Cross-Cloud Network
Google Cloud has also announced the availability of a Cross-Cloud Network as the global platform to connect applications across cloud platforms. Optimized for cloud security, this network delivers zero-trust security (powered by machine learning). It also reduces network latency by up to 35%.
Enhancements for Google developers
Google also announced a host of improvements and enhancements designed for Google developers. Here are some of them:
With Jump Start Solutions, developers can streamline their move toward Google Cloud by shifting their initial learning and research tasks to the platform.
Google Cloud's partnership with GitHub provides a secure DevOps solution to connect Google technologies with this platform. Other capabilities include integrated source management, CI/CD, artifact management, and enhanced security.
A no-code integration platform-as-a-service (iPaaS) is now available to integrate applications.
How Onix can help with Google Cloud
Powered by Google Cloud, Generative AI technology is delivering real-world business value to millions of users across the globe. With Onix, you are assured of high-quality services in Google Cloud.
Voted as Google Cloud's Partner of the Year on 13 occasions, Onix brings in over 20 years of experience working with the Google team. Our team of Google Cloud and AI specialists are trained to tackle challenges related to cloud deployment, planning, and customer service.
Here's why Onix is best qualified to serve you as a partner:
13-times Google Partner of the Year award
Google Cloud managed services partner
In-depth expertise in application development, infrastructure management, and data analytics on Google Cloud.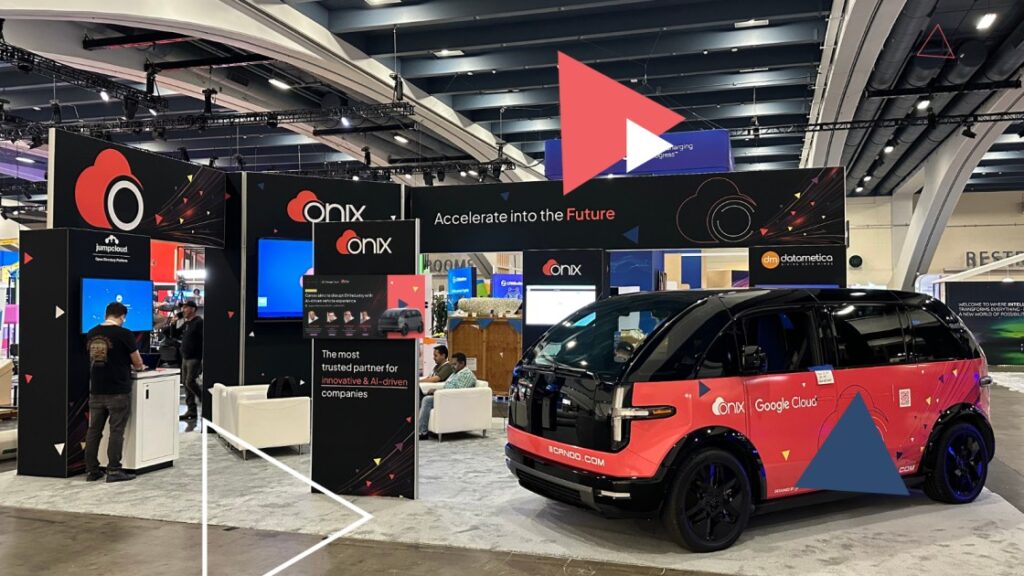 During Google Next, Onix hosted hundreds of visitors to our booth to showcase our GenAI demos and an in-person activation with our customer Canoo to drive towards the intersection of technology, mobility and communication. Canoo partnered with Onix and Google Cloud to disrupt the electric vehicle (EV) market with its innovative AI-driven vehicle experience. Speaking at the Google Next event, Tony Aquila, the CEO of the company, highlighted how Canoo is leveraging AI technology and EV data to customize the overall driving experience. Demonstrating the capabilities of one of his EVs, Tony points out that "80% of the vehicle repairs are done over the Internet."
Empowered by AI and Data analytics technologies, the Canoo AI solution presented a variety of innovative functions to the event attendees.
This included:
Keyless ignition using AI-powered facial recognition
Dashboard showing the "total number of miles driven" and the "current driving speed of the EV."
Virtual "street view window" for the EV driver
Learn more about this and other customer's we've helped on their journey. Contact us now!

Reference links:
https://cloud.google.com/blog/topics/google-cloud-next/welcome-to-google-cloud-next-23
https://cloud.google.com/blog/topics/google-cloud-next/next-23-recap-day-1
https://cloud.google.com/blog/topics/google-cloud-next/next-23-recap-day-2