Managing Sales Pipelines
Pipedrive CRM is a sales pipeline management software application that's simple to use but yet delivers powerful results. Pipedrive has been an Onix customer since July 2014, and a Google Maps Platform customer since the company was founded in 2010. The company has offices in Menlo Park, CA and Tallinn, Estonia. They are proud to be part of the AngelPad alumni group. (AngelPad is an intensive mentorship program founded by ex-Googler Thomas Korte to help web-technology startups build better products, raise the funding they need to succeed and ultimately grow more successful businesses.) Today, Pipedrive has 60 employees and more than 12,000 business customer accounts worldwide.
Pipedrive's roots are grounded in direct sales. As sales managers and trainers, two of the co-founders experienced an increasing amount of pain with the CRM software that existed at the time. There was simply no good solution for managing a company's sales pipeline. So in 2010, they teamed up with talented developers to create Pipedrive. One of Pipedrive's key features is its integration of Google Maps Platform, an immensely helpful tool for any field sales team.
Integrating Powerful Mapping Solutions
When Pipedrive's offering first appeared on the market, it integrated with Google Workspace; users appreciated the easy contacts and calendar sync. However, the company wanted to integrate Google Maps Platform to take the software to the next level.
"Google Maps was the first choice," explained Mohammed Ocean, Pipedrive's Head of Growth. "It's developer-friendly and, of course, it was already a product familiar to us and to our end users. We want our users to feel comfortable with our software, and Google Maps Platform is the best mapping software out there."
Because Pipedrive's CTO and co-founder, Martin Tajur, were very familiar with Google APIs, implementing the Maps integration was completed very quickly. The Places API was especially helpful. Considering that Pipedrive has customers around the world, Google Maps Platform can handle any address challenges, regardless of format. Pipedrive's team was able to build their integration — and then revise it over time.
Optimizing Google Maps Platform Usage
Onix entered the picture, Ocean said, because "Pipedrive may not have used best practices when setting up our Maps for Business instance." Onix came in and helped with the licensing agreement and also reviewed the usage stats.
"Essentially, we did a live tour of the Maps application to better optimize usage," Ocean explained. "Onix was a huge value here, providing insight on how to improve usage and the number of requests. It's really very stable now."
According to Ocean, Onix delivered white glove service throughout the process. Being a startup, things move quickly at Pipedrive. Onix showed the team how to reduce map costs while increasing map usage.
"And they did this in four days!" Ocean noted. "Onix quickly understood our needs and delivered easily digestible reports to show next steps. Pipedrive is really happy now with our Google Maps Platform offering and happy to be with Onix."
The Future is Bright
Integrating Google Maps Platform into Pipedrive allows users to visualize sales data on a map. Each member of a field sales team can use Maps to plan out his or her day. Team members can find customers by zip code, city, state, or however, they are planning their travels. Outside sales teams love the maps because it makes their job easier and reduces the administrative time needed to plan their travels.
Pipedrive also uncovers potential opportunities by offering a simple find nearby businesses feature that compares a user's current map to the addresses of other businesses in the vicinity that exist in his or her Pipedrive account.
"Maps is a killer feature for an outside sales team," Ocean noted. "Having the Maps integration can help seal the deal for Pipedrive. Our prospects can immediately see how this will save time and allow them to sell. Every Pipedrive demo highlights the maps feature."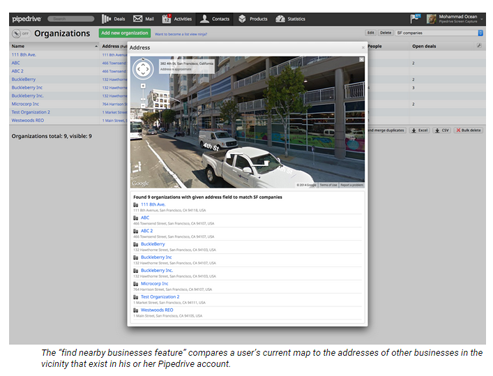 Ocean referred to the CRM software as a "disruptive" CRM product. "It's a big market with big players like Salesforce, but Pipedrive users can see a 90 percent reduction in cost over other enterprise offerings, and an immediate uptick in top-line revenue," he said. "This is thanks to the effectiveness of a visual pipeline manager built by real sales trainers."
He and the Pipedrive team understand that consumer apps are changing the business world. In fact, Ocean likes to call Pipedrive's solution, "CRM 2.0: designed for the end user, not the executive buyer."
"It's all so easy; use your phone, and you're up and running," Ocean stressed. "That's what Pipedrive strives for; we want our product to be intuitive. The software should adapt to you and your workflow. Users should just know what they should be doing, rather than spending time learning how to use it."